This GE Report is written by Julian from Microsoft.
People's Square Toastmasters Club 090707 meeting.
—————————————————————————–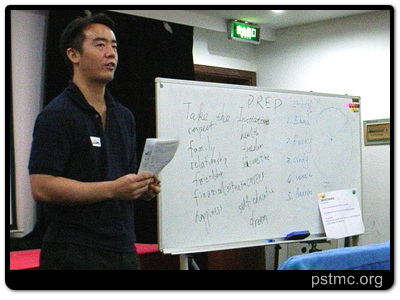 GE Report
Room and accomodations
A/C was a little loud, but was switched on and off as appropriate by members
Good seating, just enough for the members and guests with a few more empty spots for latecomers
The center aisle is a little crowded with the camera there. If the camera is not in use, it might be better to take it away.
Please keep the PPT off if not in use as it is distracting
Brad (TME)
Keep your stories and comments focused. Its good that you make reflections and comments about what people had to say, but take it a step further and use what was last said to transition into the next topic.
Keep transitions smooth, don't say the same sentence, or use the same structure twice. After asking the person to come up to the stage, don't say anything more until they take the stage. Wait for them to come up, don't go off the stage of to the side to meet them.
Spike (TTE)
Good acronyms. 'SS' Simple Structure 'PREP' Point, Reason, Example, Point.
Good use of PREP structure to give feedback. Specific examples are important.
Good to point out good use of 'vivid' laguage.
Peter Wan (IE C9)
Good insight about '3 parts to persuade', followed by examples of how speaker demonstrated each section.
Good suggestion of how to improve the 'power' of their speech
Joe He (IE C9)
Good examples of how speaker used concrete proof with photos and statistics.
Good examples of how speaker choose a good topic to connect with the audience and appeal to their emotions
Remember to discuss why good habits are important? Why do we want to connect with the audience? So that our messages have more impact and are received more effectively by the audience.
Christine Grammarian
Good example of how to use word of the day, you included a lot of information about it
The writing on your paper is too small, it is impossible to read the smaller fonts
Rowain Ah Counter
Good interaction with the audience
Good explanation of Ah counters function, and why the role is important.
Edgar Timer
Good job, no comments
-End of report
——————————————————————-
updated by PRVP Ben Dai